Gushing Cloud follows up his debut 2010 EP, Prism Shelter, with the strikingly colorful full-length CD Beat Wings In Vain. This album is infinitely more focused, complex, and heady; the result of 3 years of heavy experimentation and honing of creative and technical craft. It's a fascinatingly varied patchwork of colors, ideas, and strong musical character spread over realms of groovy electronic, thoughtful ambient, and noisy/experimental/progressive rock music.

Collaborations are featured throughout the album, with song writing and instrumental additions from Dog Hallucination's D. Petri, Lovely Little Girls' Alex Perkolup, and Cheer-Accident's Thymme Jones and Jeff Libersher. GC places these characteristically flavorful contributions in a uniquely conceived context that harmonizes the electronic and organic elements with genuine style. While some comparisons to the sound and spirituality of forward thinking electronic acts like Boards of Canada or Four Tet might be made, to some people Gushing Cloud's songs may feel more like groovy electronic instrumental step-grandchildren of Brian Eno's non-ambient albums of the 70's or the first four classic Faust albums. Kumo/Bengtsen playing saxophone in the avant-art-rock group Lovely Little Girls has perhaps rubbed off a bit onto parts of the album, as has being in the experimental electronic quartet Amalgamated and occasionally playing with the Chicago experi-prog-rock mainstays Cheer-Accident. Also spending 9 years in the guitar-heavy experimental-dreamy-art-noise-rock band Rebekah's Tape shows in many of the guitar parts. Influences are inevitable, and can of course be discerned, but there is an organic earnestness of personality in this music that is difficult to pigeonhole.

Melodies on guitar, saxophone (alto, tenor, and baritone), synth, piano, and trumpet are engaging and hooky, yet off kilter with subliminals. Multi-tracked synthesizers, various weird laptop manipulations, bass guitar, poly-rhythmic drums, odd-ball samples, funk grooves, noisy guitar, and zither are utilized in the earthy-technological infrastructures jutting up around and sprawling out beneath. Beat Wings In Vain is rife with complexities, and will bear innumerable listenings for audio scrupulizers, while holding a good deal more than sufficient emotional, festive, groovy content to fulfill the lusts of enthused weirdo dance floor inhabitants or thoughtful household head-nodders.

Mastered by James Plotkin.

9 tracks on CD, bonus track w/ download (CD comes with download code) - (Either way, you get the extra track.)

Approximately 55 minutes.

Beat Wings In Vain comes in a high quality digipak, with according high quality collage/painting/photography artwork, psychedelic and mystical.

First 50 copies sold receive a complimentary 11x17 poster of artwork related to the album: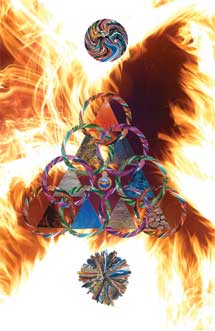 CAT-18....CD digipak.
ORDERING:
Shipping is expensive. Especially overseas. For U.S./Canada orders we include shipping/handling, and for overseas orders we ask that you add the $10 shipping fee to the items you choose to purchase. It works best to order more than one item if you are ordering from overseas.
$12.00 ppd US/Canada.
$10.00 Overseas shipping
| | |
| --- | --- |
| | |
$8.00 Download: